Salam..
Seperti yang diberitahu di entry lepas, ayah saya ke IJN untuk Angiogram.
Dari Angiogram terdapat 3 salur darah major yang block.
Satunya dah block 90%, satu lagi 80% dan satu lagi 70%.
Dari perbualan dengan Cardiothorasic Surgeon, bypass perlu dilakukan dalam masa sebulan.
Tapi belum dapat tarikh sebab ayah discaj on weekend.
They will call us to give the date.
Cuma berharap sangat ayah tidak di'attack' sebelum bypass di jalankan.
Tambahan pula dengan adik saya yang masih dalam tempoh ''masa kecederaan''.
Saya nak copy paste skit info tentang Angiogram dan bypass
Angiogram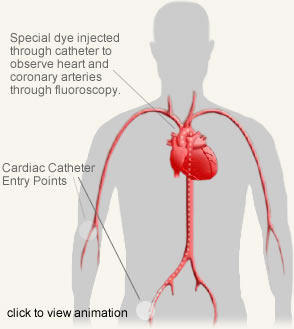 Angiogram
adalah satu pemeriksaan yang menggunakan imbasan sinar-x untuk memperlihatkan salur darah dengan menggunankan bahan kontras.
TUJUAN: angiogram digunakan untuk mendiagnos penyakit arteri koronari. ia jugan digunakan untuk mengenal pasti lokasi sebenar dan keterukkan sumbatan tersebut.
PROSEDUR: angiogram akan dijalankan melalui dua cara: kaedah radial (gegelang tangan) ataupun femoral (paha). anda kan sedar sepanjang prosedur. tiub kateter dimasukkan ke dalam sistem pembuluh darah jantung samada melalui di celah pangkal paha atau salur darah pada lengan.prosedur ini biasanya mengambil masa selama setengah jam. pewarna akan disuntik kedalam kateter ini dan imej pembuluh darah jantung diambil bagi mendapatkan gambaran yang jelas untuk bahagian yang tersumbat.
Bypass
Pembedahan ini akan memulihkan pengaliran
darah
ke bahagian
jantung
. Ia melibatkan penggantian salur darah jantung yang tersumbat dengan salur darah dari kaki atau lengan.